Fishnets are controversial, but they have been popular over the years regardless. They've been associated with goths, strippers, and Harajuku girls. Depending on who you ask, fishnets can be perceived as slutty or fashion-forward. They are, given the multitude of styles, quite versatile. Generally speaking, those with a smaller net are considered classier. Nude, beige, or vanilla fishnets are recommened for the office. Black and shimmery ones are best for formal events, and feel free to go for colorful ones for dancing or partying. Below you'll see different celebrities and how they style this particular trend, along with my commentary. I've mostly been seeing fishnets as a part of performance outfits (think Lady Gaga, Beyonce, Ke$ha, Katy Perry...hell, even Miley).
Lily Allen in UK Glamour
I simply adore this look. The red fishnets are very subtle and add a pop of color along with the red pumps. This goes to show you that fishnets can be worn with shorts for visual interest.
Taylor Momsen filming Gossip Girl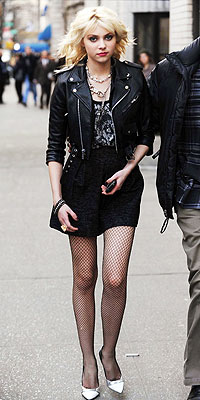 It's okay if you have tears and little holes in your black fishnets if you're going for a punky look. Add a leather motorcycle jacket and metallic pointy-toe shoes for an extra punch.
Megan Fox at a Jennifer's Body press conference
Her sophisticated plaid dress looks fabulous with vanilla fishnets and burnt orange heels. If you were dubious about whether or not fishnets could be "classy" look no further than here.
Kylie Minogue in Cannes
Kylie proves that you don't have to be in your twenties to pull off fishnets. A hot pink dress, gold heels, and black fishnets is not something you see every day, but I personally find it to be fabulous and perfectly befitting a pop star.
Sarah Jessica Parker at a premiere
Did she take style cues from Kylie? Strapless hot pink dress + black fishnets...although with different styling.
Here's what not to wear with nude fishnets: red knee-high boots and a cut-out gold dress. The dress with the fishnets could have been passable if she chose, say, black heels? Anyway, I'd avoid wearing super short dresses/skirts with fishnets so you don't look trashy.
Blake Lively on the set of Gossip Girl
Fishnets come in fun colors and patterns. Blake tones them down with a neutral outfit and accessories.
Blue coat. Check. Blue bag. Check. Blue fishnets. Check. It's a bit much for me.
What's your take on the trend? Do like them colorful, or do you prefer classic black? What would you wear with them? I think this trend deserves a YAY if the holes are small. I personally get bored of wearing opaque black tights all the time, so fishnets are a good alternative. I prefer wearing them with a preppy ensemble so I get just a little edge. I also think it looks better than the over-the-knee sock trend that's been getting stronger recently, at least on myself. Athletic calves and thick socks do not match!