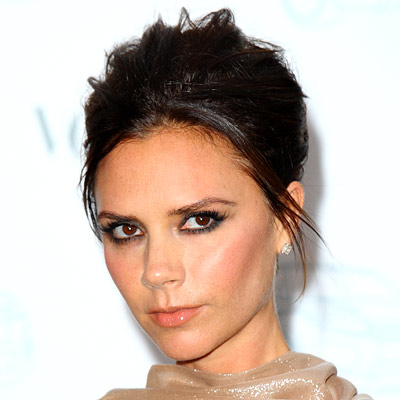 Victoria Beckham looked fierce at Range Rover's 40th Anniversary party in London. She swept her dark hair into a messy, textured updo but kept face-framing tendrils out. This put the spotlight on her glowing skin, perfectly blushed cheeks, and intense eyeliner. A light peach glossy lip complemented the peachy tone of her skin and was subtle enough not to compete with her eye makup. In a word, genius! The plus side is that you don't need a 100% steady hand to replicate this look. Don't sweat recreating this with my advice.
Get Victoria's look:
1. Start with your eyes. Apply an eyeshadow base: use primer if you have it, but a thin layer of concealer can work if you don't have any.
2. You'll need to break out a kohl black liner. Line your waterline, but be careful not to poke your eye. It's okay if your line isn't perfectly straight or varies in thickness.
3. Take an angled eyeliner brush and dip it in a charcoal shadow. Use this brush to go over the lines you just made, blending and smudging it outward.
4. Line your upper lashline, thickening as you go toward the outer corners of your eyes.
5. Do the same thing in step #3. Blend, blend, smudge, smudge. Use the brush to connect the lower lashline liner to that on the upper.
6. Dab a regular eyeshadow brush in a neutral taupe and blot your entire eyelid.
7. Apply copious amounts of mascara, but stop before they clump. After the mascara has dried, curl your lashes.
8. Clean up any shadow fallout before doing your base. Apply a teeny bit of a liquid highlighter to your foundation for a Beckham-worthy glow.
9. Apply a matte peach blush to the apples of your cheeks. Then swipe bronzer where the sun will hit you naturally: an arc under the cheekbones, a light dusting on the forehead and bridge of your nose.
10. Dab a regular eyeshadow brush in a vanilla eyeshadow. Use it on the inner corners, underneath the browbone, and on the top of your cheekbones.
11. Finish up the look with a matte peach lipstick. Top with a bit of a clear gloss for extra shine and fullness.
Products to Try:
1.
Maybelline Define-A-Line Eyeliner
in
Soft Black
, $5 at
Target
2.
Urban Decay Eyeshadow
in
Oil Slick
, $19 at
Sephora
3.
Revlon Matte Powder Blush
in
Perfectly Peach
, $10 at
CVS
4.
Benefit Cosmetics High Beam
, $24 at
Sephora
5.
Revlon Colorburst Lipstick
in
Peach
, $6 at
Target